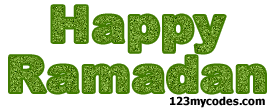 Ramadan Mubarak to all who are celebrating and observing this holiest of months – may you be surrounded by peace, happiness and contentment.
Being in Berlin, it's very weird for us. We're not seeing or hearing anything about Ramadan which is now happening in Dubai, the Middle East and all over the world for followers of Islam - apart from what we're reading on the UAE blogs of course!

There's one particular blog that needs special mention. Initiated by some people whom I'm proud to call our friends, Ramadan Kareem is bringing people together to share their Ramadan experiences. Good on you for starting this up!

Ramadan is the 9th month in the Islamic calendar and the holiest of months for Muslims. It starts with the first sighting of the 9th crescent moon for the year, and will last for approximately 30 days or until the 10th crescent moon for the year is sighted. There are always differences of opinions as to when the crescent is sighted, meaning that no one really knows when Ramadan will start until the Muslim clerics say that it will. There's a brilliant cartoon over at Carmen's blog which humourously illustrates the frustration of the public!
During Ramadan, Muslims use this time to pray, reflect on their spirituality, do good deeds and spend time with family and friends. Charitable contributions are a large part of Islamic faith and even more so during Ramadan where Zakat (charitable giving, and one of the 5 pillars of Islam) is encouraged and widespread.
Fasting lasts during the hours of daylight and there is no eating, drinking or smoking. It's intended to help teach Muslims self-discipline, self-restraint and generosity, and reminds them of the suffering of the poor, who may seldom eat well.
During Ramadan, Muslims are also encouraged to refrain from any negative emotions or actions such as violence, anger and gossip.
Each day of Ramadan starts very early before sunrise when Muslims eat a light meal called

Suhoor

. This is the last meal that they will eat until sunset when the fast is broken by the meal called

Iftar

. Iftar traditionally consists of dates and water, after which the evening prayer is said, and then the feasting begins in earnest.
In Dubai, many of the restaurants and hotels will hold Iftar buffets – often in specially erected Ramadan tents. It is said that during Ramadan, there is more food wasted than in the other 11 months of the year, because no host wants to run out of food or appear to be miserly when it comes to the amount of food that is presented.
For the month, shorter workdays are in place with workers heading home around 2pm – having worked through the normal lunch period. This is so that they can get home in time to eat Iftar and attend the evening prayer.
Ramadan ends when the 10th crescent moon is sighted.
A 3 day celebration – Eid Al-Fitr – then takes place. The Festival of Fast-breaking is a happy family and friends-oriented time, with special prayers and visits to family homes with gifts being exchanged, especially for the children.
Peace be with you all.